Gibson's wife files for divorce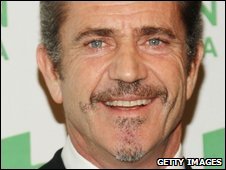 Mel Gibson said the couple had been separated since August 2006
Actor Mel Gibson's wife has filed for divorce after 28 years of marriage citing irreconcilable differences.
Robyn Gibson is seeking a share of the money and assets the Braveheart star, 53, has earned during his career.
As it is thought no prenuptial deal was signed, Robyn could receive half of the star's reported $640m (£432m) wealth under Californian law.
The couple, who were married in June 1980, have seven children together but only one is under 18.
Details of how the couple's assets will be divided were not revealed in the papers filed with the Los Angeles Superior Court.
Mrs Gibson is also seeking jewellery, earnings and assets she accrued after the couple separated and wants her husband to make support payments and to meet her lawyer's costs.
In addition, she has requested joint custody of their youngest son, Tom, aged 10.
Privacy call
The actor filed a response to the divorce saying the two had been separated since 26 August 2006.
Legal documents show he does not want to make support payments and wants lawyer's fees be paid out of the couple's joint property.
In a joint statement, the couple said: "Throughout our marriage and separation we have always strived to maintain the privacy and integrity of our family and will continue to do so."
Born in the US and raised in Australia, Mel Gibson rose to fame after starring in the 1979 film Mad Max.
He went on to star in hit films Lethal Weapon and Braveheart, which won him best director and best picture Oscars.
The star has adopted a lower public profile since his controversial 2004 film The Passion of the Christ and his arrest in July 2006 for drink-driving.
Gibson pleaded no contest to the charge and was given three years' probation.